I'm not going to lie. I was one of those Mom's who gave their first child whatever they wanted. I remember once my daughter ate a whole box of fruit snacks... in one day! That is almost 1000 calories of just sugar! As I have gotten older, I have come to realize just how important nutrition is. I try and focus more on snacking on healthy treats and snacks instead of the junk. This is a list of what my kids actually eat.
1. Low fat cheese stick
2. 1/2 cup of pretzels
3. 1/2 of banana with 1 Tablespoon of peanut butter spread on top
4. 1/4 cup of carrots and 1/4 cup of broccoli with 1 Tablespoon of Fat Free Ranch
5. 100 calorie pack popcorn
6. 1/2 cup of frozen grapes
7. Yogurt (strawberry Activia is my daughter's favorite)
9. 1 Piece of Wheat Toast with Honey
11. 1 cup of low fat chocolate milk
12. 1/2 cup of dried fruit
13. 1/2 peach and 1/2 cup of fat free cottage cheese
14. Fruit Leather (found in the organic section of most grocery stores) or you can make your own! Click
HERE
for a good recipe!
15. Sprinkle some granola on 1/2 cup of yogurt and add a handful of strawberries and blueberries
16. Scramble egg whites and put salsa or a little bit of cheese on top
17. Ants on a Log (Celery Sticks with peanut butter in the middle and raisins on top)
18.
Skinny Banana Cookies
19. 1/2 cup of Fiber Cereal (My kids love Craklin Oat Bran from Kellogg's)
20. 1/8 cup hummus with Low Fat Wheat Thin Crackers
21. 1 apple cut up and dipped in 2 Tablespoons of peanut butter
22.
Strawberry Smoothie
- I use sprite zero!
23. Sugar Snap peas (even if they are only eating the inside)
24. A box of raisins
25. 1 Rice cake with a 1 Tablespoon of Nutella on it
26.
Hard Boiled Eggs
(just 1)
27. Make your own Trail Mix, peanuts, almonds, raisins and throw in a couple of M and Ms. But it in individual cups of baggies for your kids
28. Other nuts/seeds that my kids love: pistachios, sesame seeds, pumpkin seeds, cashews, pecans
29. Wheat crackers with some leftover tuna from your lunch
.30.
Baked Apple Crisps
31. Cut up fruit and serve it with toothpicks. Some of my girls favorites are: watermelon, cantaloupe, grapes, kiwi, and pineapple
32. Freeze your Gogurts an make the "Healthy Popsicle"
33.
Homemade Granola Bars
34.
Chocolate Peanut Butter Banana Bites
35.
Honey Granola
36.
Apple Toast on Whole Wheat Bread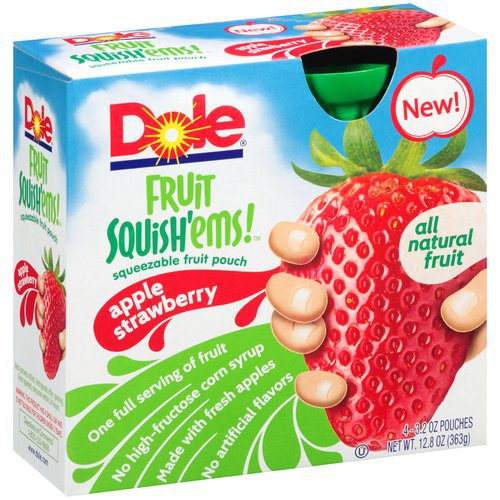 37. Squish'ems from Dole - My kids love these and they are very convenient!
38. 17 Low Fat Wheat Thins and 3/4 cup of salsa (Click
HERE
to see my FAVORITE salsa!)
39. Slice an avocado and put it on Whole Wheat Ritz Crackers - my girls usually like cheese with their avocado
40.
Skinny Peaches and Cream
41. Fiber Granola Bar (My kids like Fiber One)
42. 1/2 cup of Craisins (we buy lower calories and you can't even tell a difference)
43. Mini Pizzas on Whole Wheat English Muffins - Add a little bit of sauce and a little bit of cheese. I like to put a little spinach under the cheese so they don't notice it as much. Then broil or microwave until the cheese is melted.
44. Fruit and Cheese Kabobs
45. Frozen Yogurt Drops... You have to check these out! Go
HERE
to see them.
(The picture would just give it away)
46. 1/2 cup of whole wheat gold fish
47.
Skinny Funfetti Cupcakes
- These aren't the most healthy thing you could eat... but every once and a while I think it is okay to have one.
48.
Berry Green Smoothie
(if is isn't green... then my kids will eat it!)
49.
Peanut Butter Greek Yogurt Fruit Dip
50. My most favorite: Sugarless gum. My kids come home and are always starving... I will let them have a pretty good sized snack but I know they don't need anymore.... so that is when the gum comes out. They absolutely love it!
For our Latest Updates follow us on
PINTEREST and FACEBOOK
Looking for Healthy Snacks on the Go? Check out our
25 Healthy Travel Snacks!
Healthy Travel Snacks